As some of you may know, I'm spending the next few days in Greece, on tour with the New Amsterdam Singers. We planned our travels a year or so ago, quite a while before anyone realized that this summer would bring a currency crisis and challenging referendum to this beautiful and storied country.

Over two days in Athens, we've seen some incredible and beautiful sites filled with some five millennia of history, even as there is more history in the making. What has struck me more than anything, though, is the incredible difficulty that this country is facing in this time. Buildings are abandoned in the middle of construction. Storefronts are empty, boarded up because there is no business that could take place there. Development projects of every sort—repairing ancient ruins, repurposing the old airport, even improving transit around a city of five million people—are stalled indefinitely. After enduring multiple years of deep economic depression, there are no easy answers, even as the people are faced with a nai/oxi (yes/no) vote today.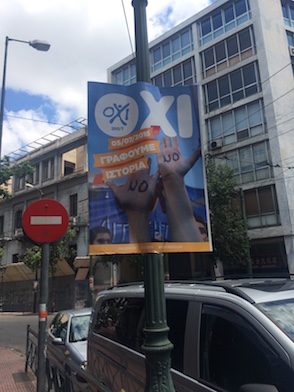 The vote today gives no easy answers. As best I can tell and have heard, neither response is without consequences. A yes vote means to accept even deeper austerity measures imposed on the nation by outside creditors, and a no vote to turn them down will likely deepen the currency crisis as debt limits run out and already-limited access to funds dwindles even further.
As we moved around the city yesterday and sang a concert with a Greek choir last night, I found myself reflecting on this whole experience already, wondering what I could do, questioning what might be possible to offer beyond spending my cash.
Two things stick with me, from the beginning and end of the day. First, a gathering of people at prayer, overflowing out of a Greek Orthodox church near the Acropolis as we wandered up the hill. Though I certainly could not understand anything of what they were saying, I quietly joined in their prayers that surely were for their nation and people in this difficult time. I remembered reading the prayer request from our Presbyterian partner church in Greece, the Greek Evangelical Church, and shifting my prayers from self-concern to those in deeper need, and these only deepened as the day went on.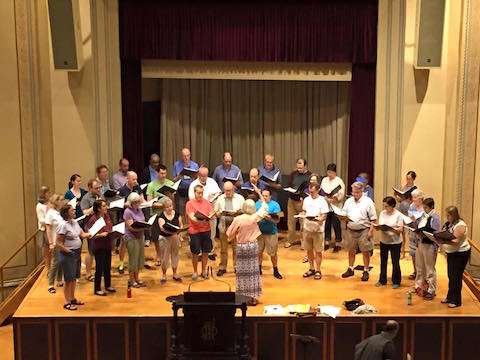 Then, at the end of our concert, in his only real reflection on the crisis of this moment, the Greek choir's director suggested that there was at least one thing we can do in these days: dance and sing until it passes. This sits so very well with the song that we opened the concert with, "Abendlied," quoting Luke 24:29 and remembering how Jesus appeared at the end of a long day's journey when his disciples didn't even recognize him:
Stay with us, for quickly falls the evening,
and the day is past and over.
And so we did exactly that last night, joining our voices together with these words of comfort and hope to offer space beyond these challenging days as we sang from our different traditions and even shared in singing two Greek folk songs.
So I hope you'll join me in prayer and song for the people of Greece today. However this ends up, I and my tour group will be just fine, and I hope and pray that the people of this great and storied nation will find the path to a new day, whatever the challenges that may come along the way.